Clearwater Living's Response to COVID-19
At Clearwater Living, we are committed to delivering the best service, care and living experiences to our residents. As part of that commitment, our goal is to keep you informed during these difficult and changing times. We understand you may have questions and concerns about the Coronavirus (COVID-19) and what we are doing in response to the pandemic. Thank you for your patience and support as we navigate through these unprecedented times together.
Our company now requires community team members to be vaccinated for COVID-19. Today many of our residents have also been vaccinated. With increased vaccinations and decreased cases of COVID-19 in many counties, the previously implemented protocols have been eased. Please contact your local Clearwater community to learn more.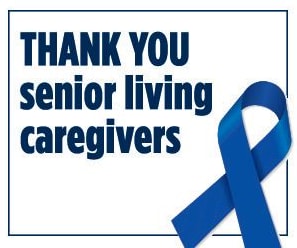 In solidarity with all providers, we want to thank our community team members and all those who serve seniors for their heroic work during these uncertain and difficult times.
Our team is pledging to be safe so others stay safe. We are pledging to our residents, our families, and to each other. We are pledging to be safe at work and while we're away from work.
Commonly Asked Questions about COVID-19
Below are answers to commonly asked questions regarding COVID-19 as well as our community operations. Protocols are monitored and revised based on the most current recommendations. For each community's specific and most updated protocols, please reach out to the community directly. 
Recent COVID-19 Updates from Clearwater Living
May 4, 2020 - Letter from Clearwater at Riverpark
May 6, 2020 - Letter from Clearwater at South Bay
January 15, 2021 - Vaccine Clinic Updates (more information in the Commonly Asked Questions section)
Staying Positive through COVID-19
Take a look at how our team members and residents are staying connected and engaged. Our team has been delivering care packages to seniors sheltering in place and local first responders. Clearwater residents also shared messages of positivity during this difficult time.
Thank you to our essential team members who are committed to safety and have worked tirelessly to help protect the health and well-being of their peers and our Clearwater residents. This video is a small token of our appreciation.